IMPACT Exhibition Organizer
Synergy between BMAM Expo Asia 2019, K-Fire & Safety Expo Bangkok 2019 and LED Expo Thailand 2019 + Light ASEAN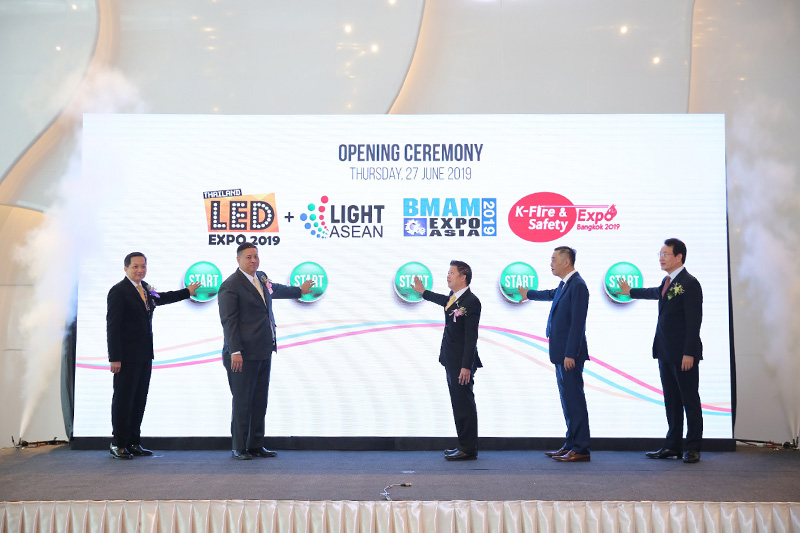 BMAM Expo Asia 2019 (BMAM"), K-Fire & Safety Expo Bangkok 2019 ("K-Fire") and LED Expo Thailand 2019 + Light ASEAN ("LED Expo")
present three focused trade exhibitions, developed for building maintenance and facilities management; safety and security; and lighting. These three co-located trade exhibitions will be held from 27 to 29 June 2019, Hall 6-8, IMPACT Exhibition Center, Bangkok, Thailand. They gather the latest innovations from over 350 exhibiting international and Thai companies and brands.
Dr. Sarawut Kaewtathip, Deputy Permanent Secretary, Ministry of Energy, states, "The Ministry of Energy has the policy to push Thailand's energy management to promote the conservation of energy in line with the 5 Year Energy Efficiency Plan (2017 – 2021), which aims to reduce energy consumption and promote the use of high-efficiency products. The plan also aims to push energy conservation behavior into the minds of the government and private sectors by promoting the new sets of regulation in place to reduce energy consumption and switch to high-efficiency technology."
"BMAM Expo Asia 2019; LED Expo Thailand 2019 + Light ASEAN; and K-Fire and Safety Expo Bangkok 2019 aim to create a role model and be the spark for the government and private sectors to understand and make the switch to innovative solutions. It is an important measure to support the national energy conservation policy and an important part of cooperation towards energy conservation on a global level," Mr. Sarawut Kaewtathip added.
THE ASEAN gateway to the Southeast Asian LED, Facilities Management, Fire and Safety markets
Mr. Loy Joon How, General Manager, IMPACT Exhibition Management Co., Ltd., revealed, "This is the first time we are co-locating these three exhibitions – BMAM; K-Fire; and LED Expo. Together, these three dynamic trade exhibitions offer integrated solutions for all aspects of facilities management, lighting, fire and safety over a total of 10,000 square meters of exhibition space, which will lead the way to deliver the best possible synergies in promoting business opportunities for 15,000 targeted local and international visitors."
Mr. Chiruit Isarangkun Na Ayuthaya, President of Thailand Convention & Exhibition Bureau (Public Organization) or TCEB, said, "TCEB is pleased to have the opportunity to support BMAM Expo Asia 2019 and LED Expo Thailand 2019 + Light ASEAN again. This year's support includes the Performance Booster and Exhibiz in Market campaigns – both reflecting successes in our collaboration to boost growth and development of the show on a sustainable basis and reinforcing the role of Thailand as a platform of international trade shows in the ASEAN region, which are in line with TCEB's policy. To further develop the show into a innovative and tech-based event in alignment with Thailand 4.0 policy, TCEB as a government agency, is ready to be a partner in driving the show."
LED Expo Thailand 2019 + Light ASEAN
In its 7th edition, LED Expo – ASEAN's largest international exhibition on LED technology & lighting solutions, presents a platform to create awareness around LED-centric applications, that can be put to use in various spheres. Key highlights include the following:
LED Technical conference features a wide range of academic sessions by industry expert including Synergy Technology, Frigo Dynamics and BUILK One Group;
Lighting Demonstration Zone showcases "DAISY" the most advanced lighting solutions designed for the high-end office and bedroom by LEDil in collaboration with WIP;
BUILD presents a comprehensive Thailand's investment criteria and guideline for LED supplier and manufacturer by BOI Unit for Industrial Linkage Development (BUILD) ;
LED Signage Zone displays the longest LED screen in the exhibition industry by ICE LED; and
LED Agricultural Zone showcases horticulture lighting demonstration and free consultancy services by Fresh Ville
For more information, please visit www.ledexpothailand.com
BMAM Expo Asia 2019
The 12th international exhibition on building maintenance and facilities management, BMAM, features the latest facilities management innovations including smart buildings solutions, building management applications, cloud security and smart office solutions from ASM Security, Data Products Toppan, Exzy, HIP Global and many more. In addition, the Building and FM conference, offers in-depth FM knowledge for those in the facilities management for building and factory to explore the latest FM trends from FM industry experts from the government sectors and associations. The BSA Building Safety Awards by The Building Inspector Association, acknowledges the building with outstanding safety standards and award is graced by Mr. Chatchai Promlert, Interior Permanent Secretary, Ministry of Interior. The Consultancy Clinic by Smart Cities Thailand Association, Thai IoT association, and other industry associations provides free consultancy services on building and facilities management.
For more information, please visit www.bmamexpoasia.com
K – Fire & Safety Expo Bangkok 2019
Korea's leading international exhibition on fire and safety presents the latest Korean technology from 50 leading Korean companies including cladding, non-reaction pistol nozzle and multi-purpose wearable robotic suit for fire service from KOREA CLAD TECH, YOOKSONG, FRT and many more. The show is the best platform for exchanging the latest technology with the support from Korean government such as DAEGU metropolitan city and Gyeongsanbuk-do. "Thailand, South East Asia's leading economy, is very keen to identify and adapt high-quality safe and security technology as its market is rapidly growing, and we believe K-Fire & Safety Expo Bangkok will be perfect place for both countries to maximize business opportunity." added Mr. Sang-Wook Kim, Samuel, President and CEO, EXCO.
For more information, please visit http://www.fireexpo.co.kr/eng/bangkok